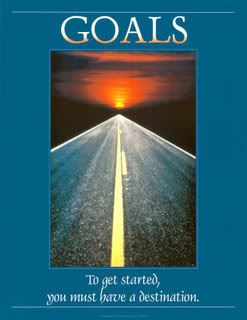 This time of year always excites me- not because of the holidays per se, but because of the dawn of a new year. Since
Carey
has been doing Goal Setting workshops over the past year, I have been more in tune with my goals and am always setting new ones. However, I can't get away from the tradition of setting goals in the New Year.
One of my favorite traditions is for my husband and I to sit down together during the holidays to set short term and long term goals. I remember in January of 2004 deciding that we would try to have a baby that year. What usually happens is that, unless you make a conscious decision to do something, you'll just keep saying "one day..." Lily was born in February of 2005.
Something I have added to my Goal Setting sessions is "Accomplishments." I try to write down 3 accomplishments at the end of each month so that I can see not only where I am going, but where I've been.
So as the Holidays approach and life gets hectic, take some time to sit down and not only plan for the New Year but reflect on how far you've come!